Autar Kaw was selected as one of the eleven winners of the 2006-07 USF Undergraduate Teaching Award.  He received this award at an awards reception on November 6, 2007.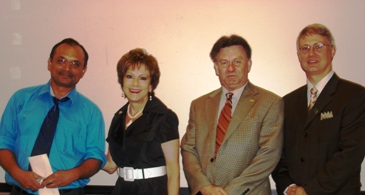 Photo: (left to right) Autar Kaw, USF President Judy Genshaft, Associate Provost Dwayne Smith, College of Engineering Dean John Wiencek.
In October 2007, President Judy Genshaft surprised Dr. Kaw and his students by showing up during the Programming Concepts for Mechanical Engineering class.  This is where she announced that Dr. Kaw was one of the 2006-07 USF undergraduate teaching award recipients. Also present during the announcement were Associate Provost for Academic Affairs, Dwayne Smith; College of Engineering Dean, John Wiencek; Department of Mechanical Engineering Chair, Rajiv Dubey.
The goal of the award program is to encourage excellence in teaching at the undergraduate level.  The University intends to ensure that the foundation courses of the undergraduate curriculum receive the proper emphasis in preparing students for work in the major, as well as providing the proper foundation in critical thinking and problem-solving skills.
This is the third time Dr. Kaw has received this award, the previous years being 1990 and 1996.
He has received several awards for his accomplishments in teaching. Notable are the CASE/CFAT Florida Professor of the Year Award (2004), ASME Curriculum Innovation Award (2004), ASEE Archie Higdon Mechanics Educator Award (2003), ASEE New Mechanics Educator Award (1992), and the SAE Ralph Teetor Award (1991).
Read more about the award-winning website for an undergraduate course in Numerical Methods.